The housing also can be with Intel Celeron 1037u 1.8GHz CPU inside, model: V1-C1037UC.
Overview:
This Dual working mode X86 architecture thin client is totally new style thin client terminal. Mostly we consider it just a MINI COMPUTER.
As a normal desktop computer, it has powerful Intel Atom N270 1.6 G CPU, 1G DDR2 memory and 8G SSD (Up to 500G Hard disk is available), pre-installed Windows XP, so you can use it to finish any of your office work, also entertainment function; As a Thin client PC Station Terminal, it has thin client software to install in host and terminal, so it can connect to HOST and share all the resources of the HOST. Compare to normal PC Station, this X86 terminal is much powerful, support almost all kind functions that you want for a normal computer.
Main benefit:
1. Share your one computer with 20, 30 or even 100 more users when use N800 as Thin Client
2. Saving space of your room and make your place more elegant and high-grade.
3. Saving purchase cost, it can act as computer, HD player, TV box together.
4. Many other benefits like saving maintenance cost, easy to use and smart design takes no paces of your office, and so on...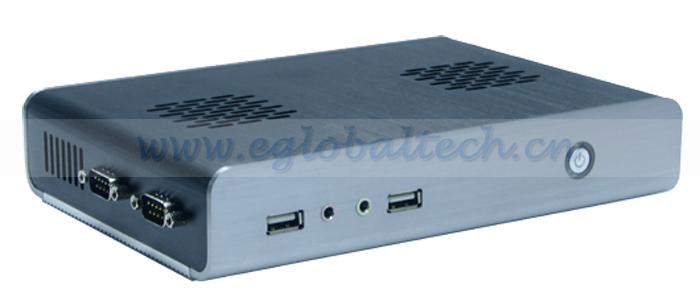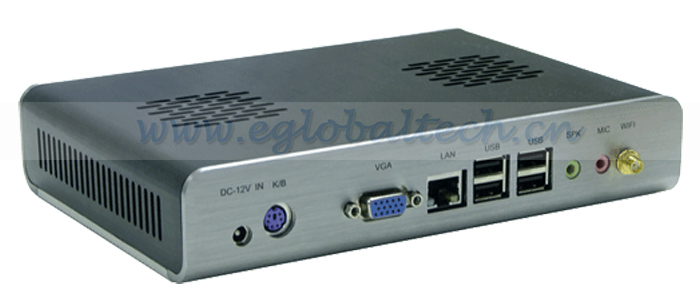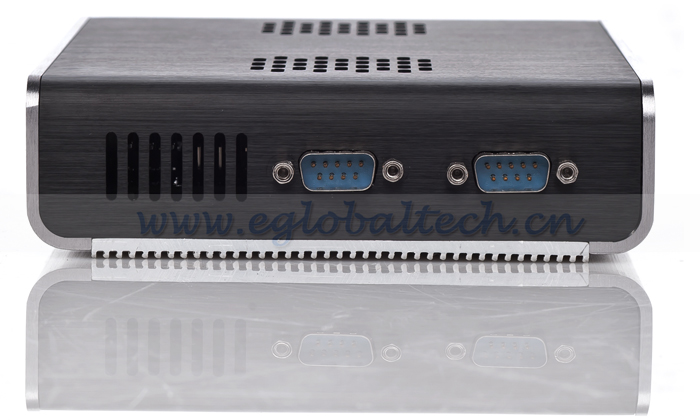 Package details:
1. Include Mini PC, Desk Base, Driver CD, Power Adapter
2. Item Size: 205*140*40mm
3. Color Package size: 33*8*26.5cm; Shipping carton per unit: 36.5*10.7*29cm
Support OS: Windows XP, XPE, Win7, 2008& est., Linux

General

CPU

Intel N270 Core 1.6 G main Frequency, 533MHz External Frequency, 512 MHz Cache

Consumption 4W, fan less, whole computer consumption less than 20W

System

Pre-installed Linux Ubuntu system

Memory

DDR2 SO-DIMM 1GB, Max 2GB optional

Lan

1 * RJ45 RTL8111DL 10~100~1000M self-adaption Lan card

Graphics card

Intel GMA950, 128M video memory standard, max 256M

Hard disk

SATA SSD 8GB, notebook HDD 160G, 320G,500G optional

Performance

CPU port

BGA Packaging, Onboard CPU

Intel® 945GSE Express Chipset
MCH: 945GSE + ICH7 mBGA
FWH

Specification:

BIOS

AMI BIOS, ACPI supported

Memory

1* SO-DDR2 SDRAM slot, max 2G DDR SDRAM

PC533/667/800 DDR SDRAM

Lan

RTL 8111DL 10/100/1000 Base T LAN, support diskless RPL or PXE guiding

Audio Card

ALC662 chip, 6 channel sound card

I/O

FINTEK71862FG chip, 1 * parallel LPT, 2* RS232, COM port 9th pin support 12V and 5V power supply, GPIO; 2 SATA (Serial II ATA) support 3Gb/s; 150M Wi-Fi optional

6*USB (4 front 2 rear port), VGA CRT, 1*RJ-45, 4 *USB ports
1*DC in 12V, 1*AV, AUDIO-OUT, AUDIO-MIC

Power supply

DC 12V

Dimension

Product dimension: 205*140*40mm

Color Package: 330*265*80mm

Weight

NW: 1kg

Shipping GW: 2 KG
Where to use this Mini PC?
1. Hotel
Hotel need to give customer internet service and HD playing entertainment, but normal HOST computer cost too much, also takes much space so not beautiful, and most of all, normal HOST will easily been opened by customer and take away. This Android Thin client will be best for hotel rooms, support 1080P HD playing, all solid design can never been stolen. Also its smart and elegant design will make your hotel room looks more high-grade.
2. Home
Nowadays, one computer is far away from the computing requirement of a normal family. But it wastes too much money to get all fat and expensive HOST pc, Thin Client gives you the best solution. You can use this Android thin client as HD player or HD internet TV box, also you can use it as a mini sized HOST computer, to talk with friends online, browsing internet, also you can let your kids use this android thin client to logon your HOST PC and playing, you can just control what your kids use.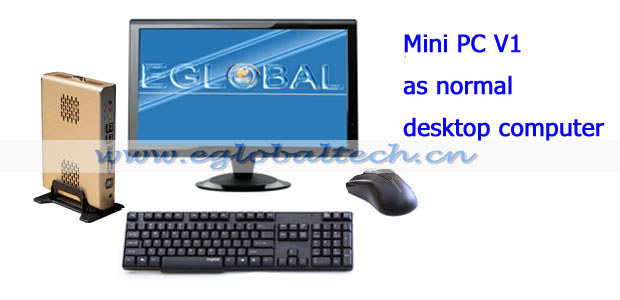 3. Schools
As computing technology develops, traditional lab room is changing to be E-Lab room, and classrooms are changing to be E-classroom. But students need only simply function of computer, such as browsing website, listening to music, office work and so on. So using normal HOST PC will waste a lot of money and computing resource, once more, thin client comes to help.

4. Other place
There are many other places like bank, office, conference room, government and so on, they need computer, but use only 10% or so parts of a full host pc's resources, the best products and most money-saving computer is Thin Client. Thin client's simply installation and using, together with its powerful function; make it more and more popular all over the world.
This Mini PC can be mount to backside of monitor, steps showing here: