Linux Mini PC ARM-A9 Dual Core 1.5GHz Cloud Computer 1GB RAM 4GB Flash Network Terminal Device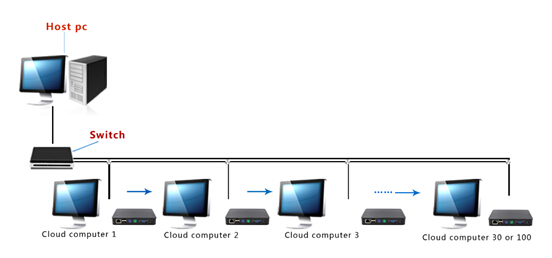 Linux Mini PC ARM-A9 Dual Core 1.5GHz Cloud Computer 1GB RAM 4GB Flash Network Terminal Device Product Features
 ARM A9 Based SOC, all solid-state design, no moving parts, no fansCan connect to | Linux OS | Windows Server 2003 / 2008 | Windows XP, Windows 7
All types of USB Flash Drives support Option for Local Browser, Media Player, Library Office, Voip Softphone, Skype, PDF Reader & other customizable Linux application as per your needs
Support graphics programs with fast speed
Linux Mini PC ARM-A9 Dual Core 1.5GHz Cloud Computer 1GB RAM 4GB Flash Network Terminal Device The Strong functions for X3:
  *For office software,Such as browsing webpage.MS software,the operating speed is very fast and stable as host PC.
 *It can support instant communicate tools.The microphone works GREAT (only with WIN7/2008),Such as Skype calling,MSN,Yahoo,TM etc…
 *Support local streaming video when connecting with server.(all OS)
 *RDP 7.1, 32bit color depth(WIN 7/2008),If XP OS,support 24bit color depth.
*Support WIN 7/XP/2008/Vista/2000/2003/2011/2012LINUX etc.

Thin Client Cloud Computer X3 Application Area:
1.Computer Digital Libraries
2.Educational Institutions
3.Solar Computer Applications
4.Schools, Computer Labs
5.Small, Medium, Business & Office Applications
6.Manufacturing Industries & Much More
7.Computer Education for Rural Areas
Thin Client Cloud Computer X3 Specification: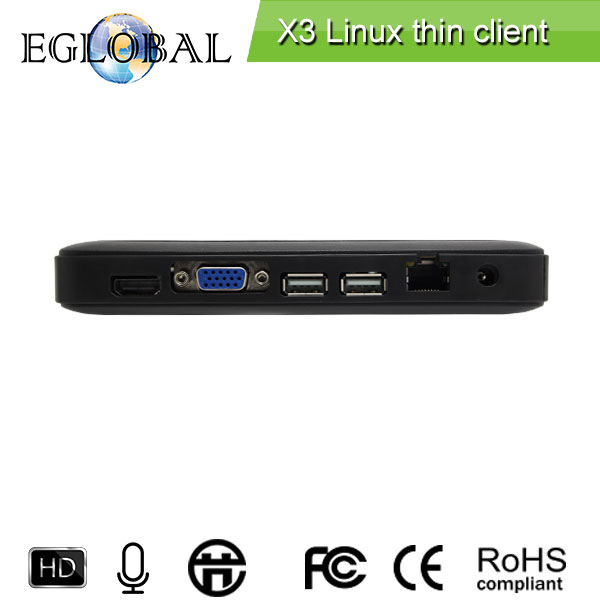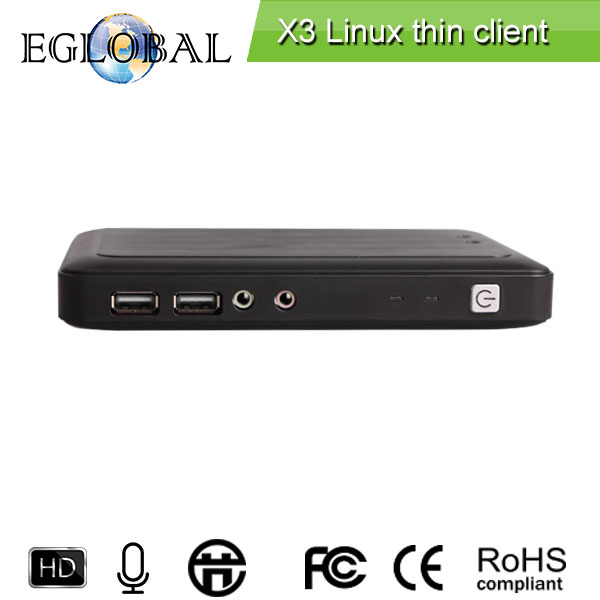 Spec

  X3

 Framework

 ARM-A9

Processor

 Dual Core 1.5GHz

 RAM 

 1GB

Flash

4GB Flash

Graphics Chips

 Graphics Card Type MALI400 1080P

OS

 Embedded linux kernel

Video

VGA resolution

 800*600/1024*768/1366*768/1440*900/1280*1024

HDMI resolution

 1280*720/1920*1080(MAX)

USB port

 USB2.0 port(×4)

Video

 1080P HD

Upgrade

 Firmware Update

Physical Dimensions (mm)

 164×116×32MM

Weight(G)

 200

 Power supply

 DC 5V/2A

Energy consumption

 Static Power less than 5W,Maximum Power less than 7.5W

 Video 

 Hardware-accelerated video support for most media formats
 on stand-alone media player applications and browser-based video

Protocol

 RDP 7.1

 External port 

 HDMI, VGA,  USB*3,  RJ45,  Power supply port,Switch port

 Working Temperature

 -20℃  ~50℃ 

WIFI

 Optional