FL300W is totally new generation thin client, with its better images and video performance, better audio input and output, and together with all the functions that all other thin client have, this Linux thin client brings you much better computing experience. This Linux thin client FL300W perfectly apply to office, education, conference, hotel and many other places that required computing.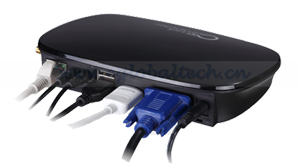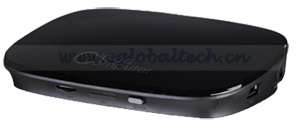 Thin Client PC Station Terminal FL300W let 2 to 100 more users share one desktop computer, turns 1 PC into 100 more PCs.

Thin Client PC Station Terminal FL300W virtual desktops share the excess power of standard PCs and make computing simple and affordable. When using Thin Client PC Station Terminal FL300W, you can save money by sharing the cost of a single PC among multiple users. And your users feel like they each have their own PC while they simultaneously share common applications—including web browsers, e-mail, office suites, and multimedia. Every user has their own keyboard, screen, settings, applications, and data files, so their experience is just like it would be if they were working at an independent PC.
Thin Client PC Station Terminal FL300W Save money, time, and aggravation
Dramatically reduce acquisition & support costs

Easy to set up, maintain, and secure

Flexible Ethernet networking

Supports all Windows professional os

Compact and reliable

Energy-efficient (under 5 watts per user) 
FL300W Thin Client Connection

Thin Client PC Station Terminal FL300W Specifications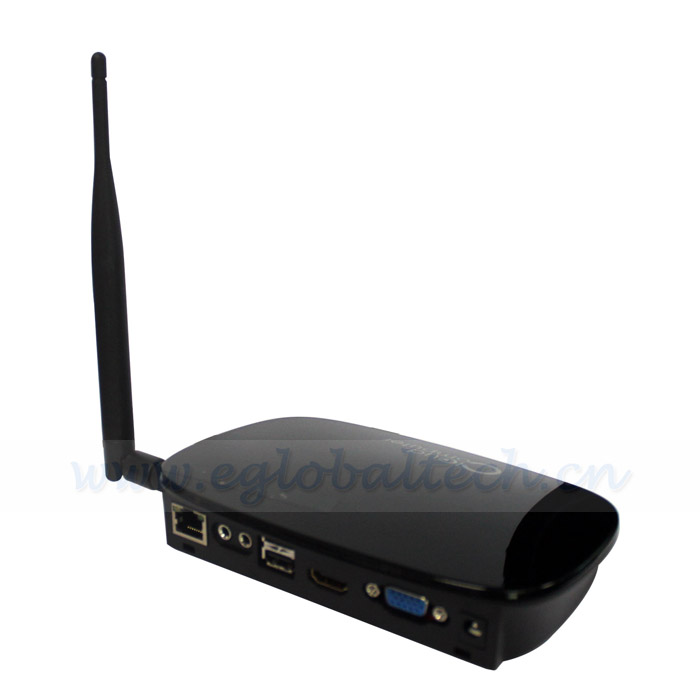 Hardware

Framework

ARM-A9

CPU

Dual Core 1Ghz

Memory

Onboard 512MB RAM

Storage

Onboard 512MB Flash, support TF card

System

Embedded Linux 2.6 OS, support all windows pro and linux HOST

Physical Dimensions

164*116*32 MM

Weight

Terminal: 200g
Shipping Weight: 500g

Power Supply

Input: 100-250 VAC, 50-60 Hz; Output: 5 VDC, 2 A

Static Power less than 5W,Maximum Power less than 7.5W

Front LED Indicators

Green LED located on front of access device

I/O Ports

HDMI, VGA, USB*3, RJ45, Power supply port, Switch on/off

Internet function

Connection to Host PC

Unlimited distance via 100 Mb/s switched Ethernet connection

Video

(1080P)

VGA Resolution

800*600/1024*768/1366X768/1440*900/1280*1024/1280*720/1920*1080

HDMI Resolution

1280*720/1920*1080(MAX)

Language

Local system English, support multiple language after connect to HOST

Audio

Stereo output and Microphone Input

Internal HW

All solid-state design, no moving parts, no fans, intergraded RDP 7.1 protocols

Support Firmware Update

Reliability (MTBF)

>>100,000 hours (calculated using Bellcore Issue 6 TR-332, Case 2, Part I at 40°C)

HW Security

No local user storage

Terminal Service Software

Max # Users

Per PC

No limitation when using a server host OS (i.e. Windows Server 2003)

max 25 users when using a desktop OS (i.e. Windows XP)

User Software

PC Station terminal services software

Supported Operating

Systems

All Windows OS Professional, such as XP, 2003, 2008, VISTA, WIN7…, all Linux version with RDP protocol, such as Ubuntu10.04

System Requirements and Options

Kit Contents

EGLOBAL PC STATIONS Kit includes access terminal, power supply, software installation & user's guide, other peripherals like monitor or KB and mouse are NOT included and must be purchased separately.
Recommended host configuration according to ures number
User No.

1-4

5-10

11-20

21-30

31-50

51-70

71-100

Host PC

CPU& Memory

>2.4

GHz P4

 with

512MB

>3.0

GHz P4

 with

2GB

Intel P4

3.2GHz

with

3GB

XEON3.2CHz

or

XEON2.8GHZ

DUAL

with 4GB

XEON E5506*2

4G*4

DDR3/1333

ECC REG

XEON E5506*2

4G*6

DDR3/1333

ECC REG

XEON E7520*2

16G*4

DDR3/1333

ECC REG
                                      Back to homepage: www.eglobaltech.cn